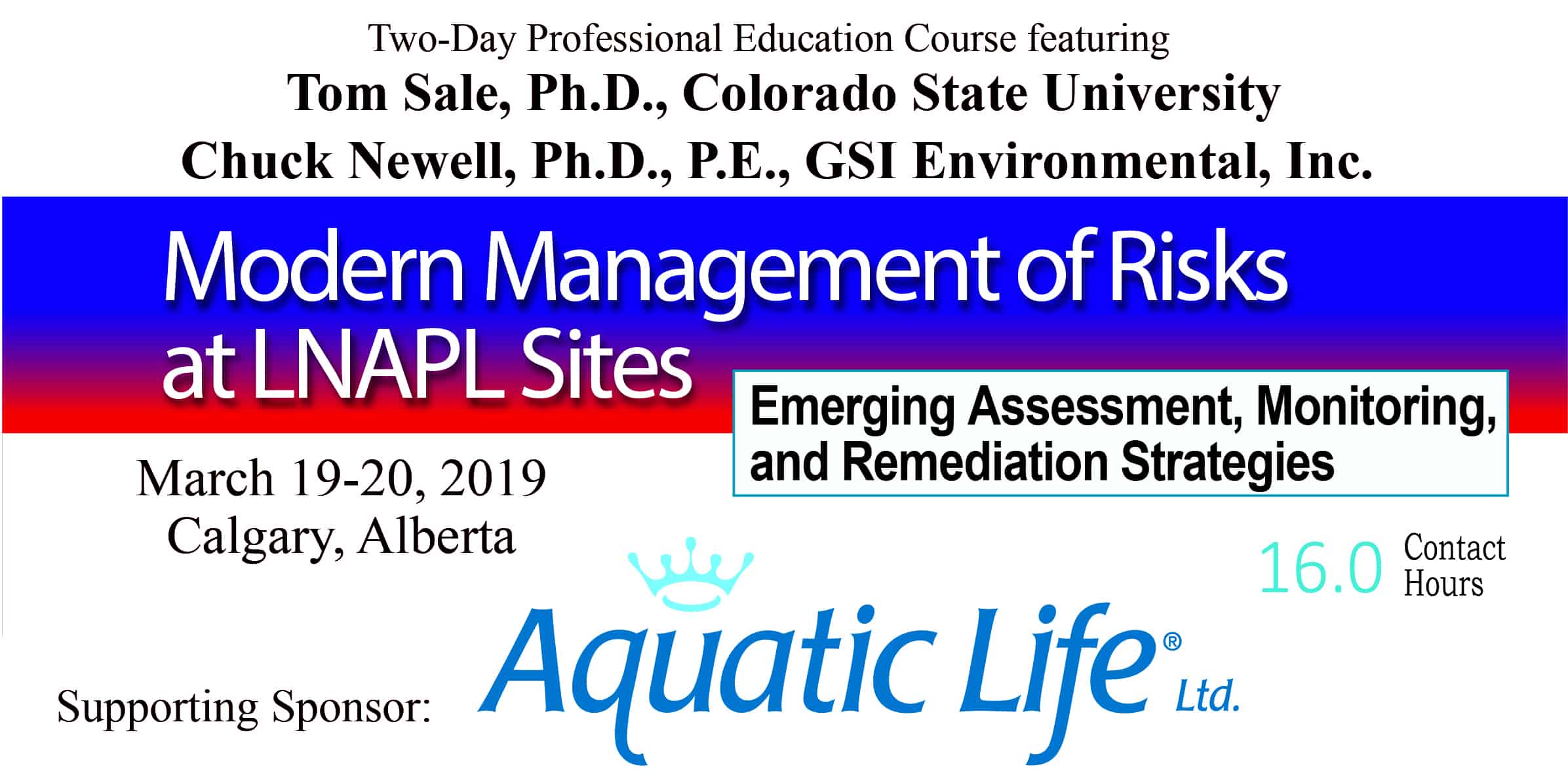 Introduction:
A revolution has occurred over the last decade with best practices for managing risks at LNAPL sites.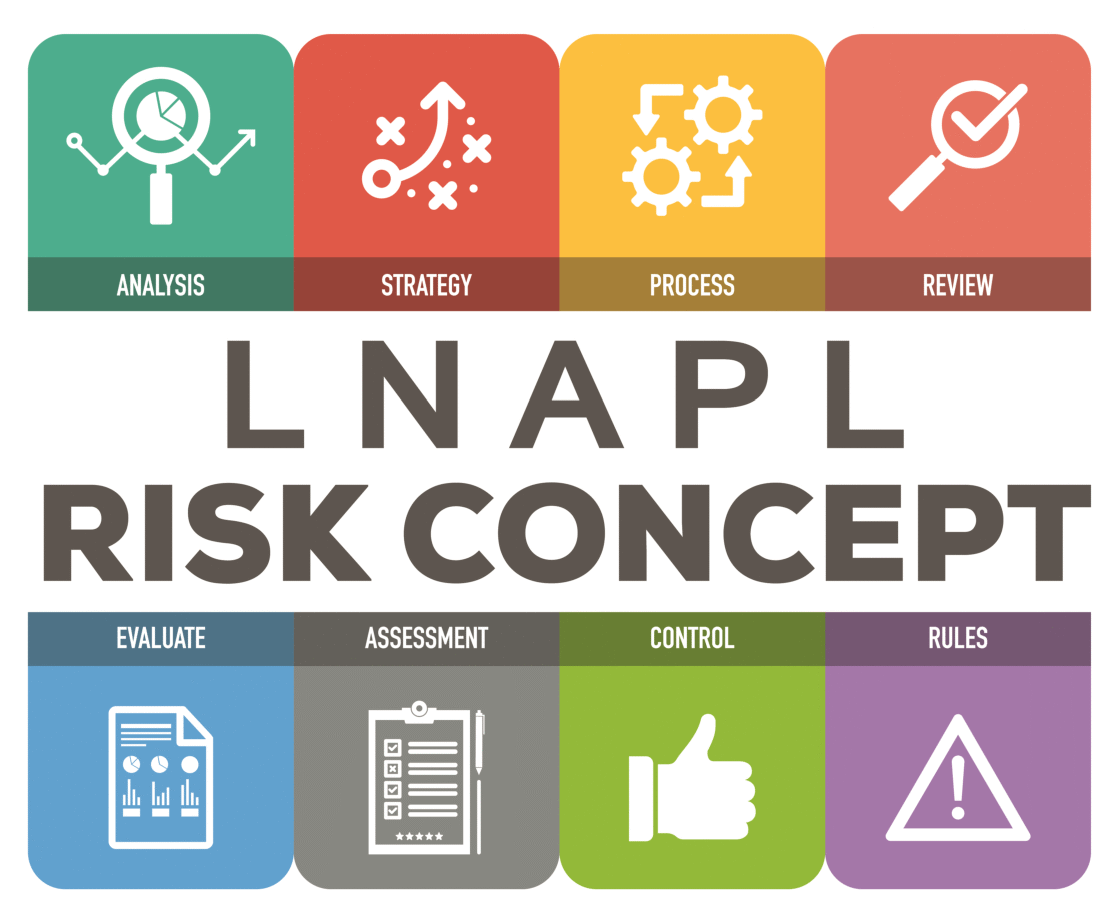 Ten years ago we were using the thickness of LNAPL in wells to measure remediation progress, we thought that LNAPL bodies only decayed very slowly, and didn't appreciate the importance of methanogenic reactions or understand how sheens and seeps work. Since then a body of work by top environmental researchers and practitioners, with contributions from both short course presenters, has revolutionized how we think about LNAPL sites and how we should control their risk.
This short course will describe these dramatic changes in the LNAPL world through thoughtfully-designed lectures, interactive question and answer sessions, illuminating in-class exercises, and a lively participant panel discussion.
The foundation of the course is the recent update of: "Managing Risk at LNAPL Sites, 2nd Edition" (Bulletin 18 from the American Petroleum Institute) by Dr. Tom Sale. For the field of remediation, the 2003 1st edition was a best seller. Fifteen years later, critical new knowledge has emerged offering the promise of better LNAPL solutions so that over 80 percent of the cited references in the 2nd edition are new and have been published since release of the 1st edition.
This course is designed to introduce participants to new strategies through new paradigms, emerging technologies, and more sustainable solutions for managing LNAPL sites.
Remarkable opportunities are open today to those versed in modern concepts and tools for LNAPL sites.
Conversely, little time is left for managing LNAPL sites per past practices.
Course Outline:
A History of LNAPLs – Context About How We Got to Where We Are Today
LNAPL Fundamentals

Multiple-Phase Flow
Natural Attenuation
Natural Source Zone Depletion

Modern Site Conceptual Models

Roles of Conceptual Models
Legacy Approaches
Soil and Groundwater Models
Groundwater and Surface Water Interface Models
14-Compartment Model

Modern Tools for LNAPL Characterizations

Legacy Strategies and Approaches
Impact of New Technologies
The Role of Geologic Context and Field Information
Emerging Techniques and Technologies
Revolution of Cloud-Based Information

LNAPL Remediation Strategies

Historical Context
Active LNAPL Depletion
Sheens and Seeps
Natural Source Zone Depletion
Bioventing revisited
Benzene
Late stage chemical oxidation
Low T Thermal
Vapor Intrusion Emerging Changes

The Future – Internet Based Monitoring
Decision Guide Processes for Managing Risk

Impact of Site Conceptual Model
Resolving Objectives: Technical, Regulatory and Financial
Vision for Sustainability

Concluding Workshop
Benefit from workshops that encourage thinking, creativity, technical mastery and managing LNAPL risk.
Workshops
| | |
| --- | --- |
| Workshop 1: | Developing an LNAPL Site Conceptual Model: Assessing Risk, Tools for Characterization, and Remedies |
| Workshop 2: | Exercise: LNAPL Presence, Duration and Extent Given Active Releases |
| Workshop 3: | Exercise: List the Attributes of Early, Middle and Late Stages Sites |
| Workshop 4: | Exercise: Recognizing and Managing Subsurface Uncertainties |
| Workshop 5: | Tools and Strategies for Characterizing Subsurface Releases: Differing Site Stage |
| Workshop 6: | Discussion: Primary Remedies for Subsurface Releases as a Function of Site Stage |
---
Being current with best practices for managing risk at LNAPL sites is essential to sustainable careers