THIS IS HOW WE ARE IMPLEMENTING A NEW ADAPTIVE MONITORING PROJECT ON THE WINNIPEG RIVER
In Manitoba, Canada, and globally, we often wonder just how good our water is. Equipped with cutting-edge technology, public-facing data and a strong educational mantra, Aquatic Life® has teamed up with the International Institute of Sustainable Development (IISD) to answer this very question.
Three revolutionary water monitoring stations have been installed in strategic locations across the Winnipeg River Watershed, collecting water quality data with the intent of informing community leaders about the state of the river. "We all have a relationship with water," Aquatic Life Founder & CEO Jeff Simpson shares. "People have a desire to know more about water, our industry has an obligation to transparently provide this information, and we're finally doing it."
With watershed sustainability increasingly questioned, the project's launch is timely. From increased flooding events to increased algal blooms to increased temperatures, water problems are said to be getting worse. "I cannot think of a single climate risk or issue that isn't somehow connected to water," shares Dimple Roy, Director, Water Management at IISD.
"Water is not just a matter of safety, it's also a matter of cost," Jeff Simpson shares. "The drinking water might be fine, but it might cost more to treat that water than is necessary!" As it relates to water treatment plants, Aquatic Life's hypothesis is that the more information on incoming water, the earlier warnings of issues, the better. "We can start to understand what's going on upstream from the community, because in the world of water, one community affects the next community," Simpson adds.
Pent-up demand for better water quality data reaches far beyond its drinkers, swimmers, and treatment plant operators. "From farming communities to tourist operations, everyone and everything depends on water, so looking after it is critical," Simpson exclaims.
For industrial companies that generally pay a bill as it relates to wastewater, it's showing them that there's new approaches to improving their treatment process, that they can operate in a more transparent manner by sharing that data with municipalities. For mining companies that leverage water quantity & quality data as part of operations, it's showing them they don't have to get in a truck and drive for ten hours to manually grab a sample, when instead they could have water quality data coming in every two minutes over a satellite connection. For cities with ageing infrastructure, it's showing them how technology can be adopted to remotely sense changes in water quality, pressure drops, leaks, or water loss. And in the words of Jeff Simpson, "the technology is the key."
There's a "box" located at the end of the Pinawa Marina Dock, and it's known as the 'AquaHive' – a remote water monitoring platform which consists of sensors from different manufacturers working together to measure water quality & quantity parameters in real-time. Like many innovations, this product was envisioned by Aquatic Life based on three decades of experience in the water monitoring business. The AquaHive is robust & rugged enough to challenge Canada's toughest climates, comes with solar & wind power options, and works with either cellular or satellite data transmission. Aquatic Life's innovation division – Aquatest™ – was responsible for every aspect of product development, from the hardware to the firmware to the cloud platform itself, both created & tested in the backyards of Pinawa, Manitoba. And in close collaboration with IISD's experts, knowledge & reputation, the opportunity to so prominently test new-age water monitoring technology was possible.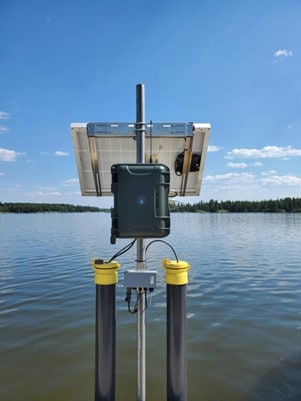 "We're not just a think-tank sequestered in an ivory tower. Whether it's deploying floating treatment wetland in a local pond or experimenting on a real lake at IISD Experimental Lakes Area to determine the impact of mercury, we always take our findings, discover solutions, and apply them to the real world," explains Dimple Roy of IIISD.
"What we saw when we met Aquatic Life was an innovative, forward-thinking group of people who shared a common mission to explore what's happening on the Winnipeg River, to document it, and to work with communities to deliver information they need to act. It was an obvious match."
IISD is recognized for its long history of working with industry, and through initiatives such as its Experimental Lakes Area in Kenora Ontario, is known globally as one of the world's most influential freshwater research facilities.
"These types of problems are worldwide," exclaims Simpson. "We have issues throughout The Watershed, and this is just one watershed out of many in Canada and around the world. With IISD's knowledge, support & credibility, the work we do today in Pinawa, Manitoba carries significant weight far beyond this region."
A launch event on June 24, 2022 will introduce the Winnipeg River water monitoring project, & the collaboration between Aquatic Life & IISD. And attendees should expect "more than just speeches." Including to the event will be a product demonstration for AquaHive's water monitoring technology, the unveiling of the public-facing website sharing Winnipeg River water quality data, and a ribbon-cutting ceremony to signify the importance of such significant strides to improve our understanding of a watershed for which local communities are so dependent on.
"I get excited," Jeff Simpson shares. "Throughout Canada and internationally, we should be able to better look after our water. I just can't see this happening without proper monitoring. And studying the Winnipeg River watershed with the technology we've developed is a really great start."
Aquatic Life & the International Institute of Sustainable Development invites everyone from community leaders, builders, & media to attend the Winnipeg River water monitoring project's Launch Event on June 24th from 10:30a.m. – 12:00p.m. located at 1 Vanier Avenue, Pinawa, Manitoba. The event will take place outdoors, immediately across from Pinawa Marina. Drinks and appetizers will be served. Presentations will commence at 11a.m. promptly.
To learn more about the event, contact Jeff Simpson at jsimpson@aquaticlife.ca.
To RSVP for the event, contact Donna Laroque at dlaroque@iisd-ela.org.