Course Details
Introduction:
Conducting aquifer tests in complex hydrogeologic settings such as heterogeneous or fractured media often leads to suspect data or unanswered questions after the field work is complete. Even when you are confident of the geologic conditions, you may have difficulty designing effective aquifer tests, running field equipment, or selecting the best available model to analyze the test data. Where can you turn to improve your approach and skills for hydrogeologic site characterization?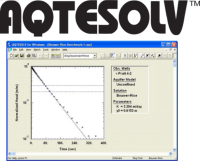 Midwest GeoSciences Group and Aquatic Life, Ltd can help! We have designed a powerful two-day training course on aquifer testing design, field methods, and data analysis techniques featuring AQTESOLV and the In-Situ Level TROLL. This course will provide you with the knowledge to master aquifer testing from beginning to end–using world-class field equipment and aquifer test analysis software.
Bring Your Computer: Analyze data from a variety of hydrogeologic conditions and well configurations using AQTESOLV. Participants are welcomed to bring their own project data for analysis for QA/QC by the instructors.
Course Topics:
Hydrogeologic Site Characterization
Learn to design the most effective aquifer test programs for a wide range of geologic conditions (including low permeability confining units and fractured bedrock)
Gain an advantage in your next aquifer test by mastering state-of-the-art field and data analysis procedures
Find out how to differentiate laterally extensive sands from isolated sand bodies in a single boring
Discover new techniques for anticipating and resolving problems that may arise in aquifer tests
Obtain step-by-step instruction for field screening using the In-Situ Level TROLL and computerized analysis using AQTESOLV
Slug Testing:
Learn to select and apply appropriate slug test models for different hydrogeologic settings and well configurations
Maximize results from tests conducted in wells screened across the water table
Find out how to recognize and account for the effects of noninstantaneous (noisy) test initiation and wellbore skin
Discover the latest strategies for designing, conducting and analyzing tests in high-K media including oscillatory responses
Gain knowledge of new approaches for decreasing test duration in low-K media
Master all aspects of data collection with the In-Situ Level TROLL
Obtain hands-on experience with AQTESOLV analyzing data from a wide range of geologic settings
Pumping Tests:
Learn to design, conduct and analyze pumping tests in confined, leaky, unconfined and fractured aquifers
Master strategies for dealing with variable pumping rates, wellbore storage, partial penetration, well losses, wellbore skin and other common issues
Discover powerful diagnostic methods including derivative analysis that help you select appropriate pumping test models
Gain an advantage by applying Agarwal's method for analysis of recovery data
Find out the best procedures for monitoring a pumping test with the Level TROLL
Master tips and tricks for using AQTESOLV to analyze constant-rate, step-drawdown and recovery test